Products
Plasma Solution
Plasma Solution
Plasma Solution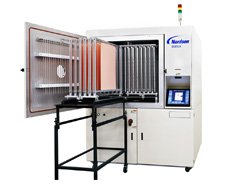 Plasma technology is used in very many fields such as semiconductors, print circuit boards, printing, painting and medical devices for surface treatment, etching and cleaning, because it is environmentally friendly and easy to build up the process.
Nippo Electronics sells the various most advance equipments made in Japan and an foreign country for study and production. We can offer total solutions to process consultation, material handling system, and so on as well as sale of a product.
We also accept sample processing, so please feel free to contact us.
※ We prepare a DVD for plasma processing equipments, so please feel free to ask one Inquiry.
Item/Service
Plasma processing equipments
Semiconductor plasma deposition
equipments
Plasma generating power supplies
Mass flow controllers
APC(Adaptive Pressure Controller)
Customized products
Process consulting
Automation systems