Company Info
Concept
Concept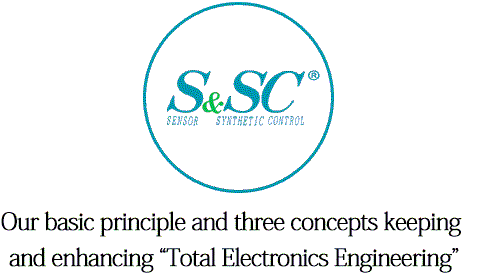 We provide
"our technological strength instead of commodities"
We aim to be "electronics artisan" having both of "sensor technology as limbs" and "integrated control technology as brain".
Challenge to a new concept
"manufacturing from scratch"
know-how is the skill we can obtain by thinking and using our hands by ourselves. We always challenge to high-level requests with our experience and theory, and continue to provide the things which can be materialized only by Nippo Electronics.
We are not afraid of risk and difficult projects.
"Only one rather than Number one as a technologist"
The value of Nippo Electronics is exhibited precisely when you have a request which was declined by other companies or can't be developed in-house. We seek a sense of achievement rather than the product share.
Nippo Electronics have specialized in Total Electronics Engineering to perform consistently from building and development of hardware and software, manufacturing and assembling to maintenance with our basic principle; "S&SC ~SENSOR & SYNTHETIC CONTROL~ (From the entrance to the exit of the electronic applications)".
We initially deal with design and development of broadcast and video devices as the core business. But now we get involved in entrusted development from many clients in various fields such as deep-sea research, space development, vacuum plasma apparatus, social infrastructure, and medical industry beyond the broadcasting field. We regard it as the result of our manufacturing with the solid technology. We provide technological strength instead of commodities. While Japanese manufacture isn't as energetic as it once was, we are proud of our manufacture because we obtained many successful experiences by thinking and using our hands. With our know-how, long experience and fresh ideas, we can meet any customer's needs.
Please feel free to contact us. If you trust us with your hope, Nippo Electronics will make shapes out of your images. Please tell us your "needs". We have the technology to give a shape to it. Because of the technology we can apply to various uses, we can continue a new challenge without clinging to the previous achievements and specialties - This is us; Nippo Electronics.